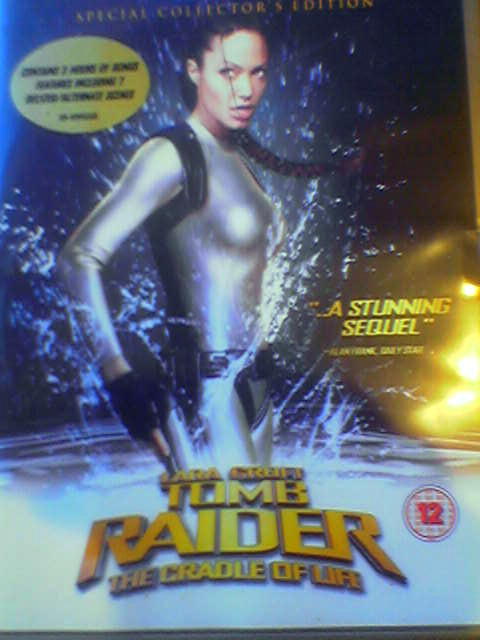 DVD
SPECIAL COLLECTOR'S EDITION
LARA CROFT
TOMB RAIDER
- THE CRADLE OF LIFE -
RATED 12
Contains moderate action violence and fantasy horror.
Run Time: Approx. 113 Minutes.
Contains 3 hours of Bonus Features
Including 7 Deleted/Alternate Scenes.
Lara Croft (Angelina Jolie) is back in action and faces her most perilous mission: to recover what ancient civilisation believed to be the essence of all evil, Pandora's Box. She must travel the globe, from Greece to Hong Kong to Kenya and beyond to get to the box before it's found by a maniacal scientist (Ciaran Hinds) whose plan is to use it for mass annihilation.
For this adventure, Lara recruits her ex-partner - Terry Sheridan (Gerard Butler) - a dangerouse mercenary who has previously betrayed Lara and their country. She knows he's the best for the mission, but can she trust him again?
Join her as she races through furious hand to hand battles, blazing shoot-outs and breathtaking sky-diving escapes to try to save the ancient artifact.... and mankind's future.
SPECIAL FEATURES:
Commentary by Director Jan De Bont

Deleted /Alternate Scenes
(with optional Jan De Bont Commentary)

Gerard Butler's Screen Test

Music Video - The Davey Brothers "Heart Go Faster".

Music Video - Korn "Did My Time".

Original Theatrical Web Site Archive.

Widescreen Version Enhanced for 16:9 TV's

Dolby Digital 5.1 Surround

English Subtitles

Additional Subtitles: - (Arabic-Bulgarian-Czech-Danish-Dutch-Finnish-Icelandic-Norwegian-Polish-Romanian-Swedish).
FEATURETTES:

Training - Vehicles and Weapons - Stunts - Visual Effects - Scoring.

DVD IS IN NEW UNUSED CONDITION

WITHOUT SELOPHANE WRAPPER

1 - Available

Buy Now only

£5.50- including post and packing to anywhere in the UK!
Overseas buyers - payment in GBP Sterling via PayPal only please.
Please add the following Airmail Postal Rates: Europe £1.75 - Rest of the World £2.50

OR ADD TO BASKET AND CONTINUE SHOPPING
Tomb Raider PC CD-ROM Games - also available

Items will be despatched upon receipt of full cleared payment which should preferably be made via PayPal as above.

If you would like to pay by CHEQUE - (it will need to clear before item is despatched),
POSTAL ORDER or CASH - (sent at your own risk),
please email: info@auntyanimal.me.uk


stating which item(s) you wish to purchase,
you will be emailed by return with instructions on where to send your payment,
together with confirmation of the item(s) reservation pending receipt of cleared payment.

All items are carefully packaged and proof of posting is obtained.

I cannot accept responsibility for items lost or damaged in the post as that would lie with the courier.

However, I would of course do my utmost to assist in any claim.