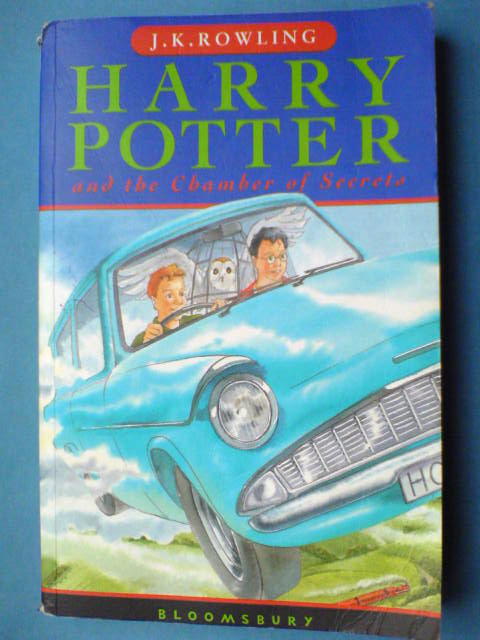 HARRY POTTER
and the Chamber of Secrets

Soft Cover Book
Measures 7 3/4" x 5"
(19.5 cm x 13 cm)

Follow Harry's adventures at Hogwarts School
in this the second book in the Harry Potter series
by J.K. Rowling

Harry Potter is a wizard. He is in his second year at
Hogwarts School of Witchcraft and Wizardry. Little does
he know that this year will be just as eventful as the last .....

'Joanne Rowling's second book is just as funny,
frightening and unexpected as her first.' The Daily Mail.

'Harry Potter and the Chamber of Secrets is as good as
its predecessor..... Hogwarts is a creation of genius.'
The Times Literary Supplement.

Original Price Tag - £5.99


Bloomsbury Publishing PLC


1 - Available

Buy Now only

£2.50- including post and packing to anywhere in the UK!
Overseas buyers - payment in GBP Sterling via PayPal only please.
Please add the following Airmail Postal Rates: Europe £2.00 - Rest of the World £3.25

OR ADD TO BASKET AND CONTINUE SHOPPING

Back to Children's Book Shop Window

Items will be despatched upon receipt of full cleared payment which should preferably be made via PayPal as above.

If you would like to pay by CHEQUE - (it will need to clear before item is despatched),
POSTAL ORDER or CASH - (sent at your own risk),
please email: info@auntyanimal.me.uk


stating which item(s) you wish to purchase,
you will be emailed by return with instructions on where to send your payment,
together with confirmation of the item(s) reservation pending receipt of cleared payment.

All items are carefully packaged and proof of posting is obtained.

I cannot accept responsibility for items lost or damaged in the post as that would lie with the courier.

However, I would of course do my utmost to assist in any claim.