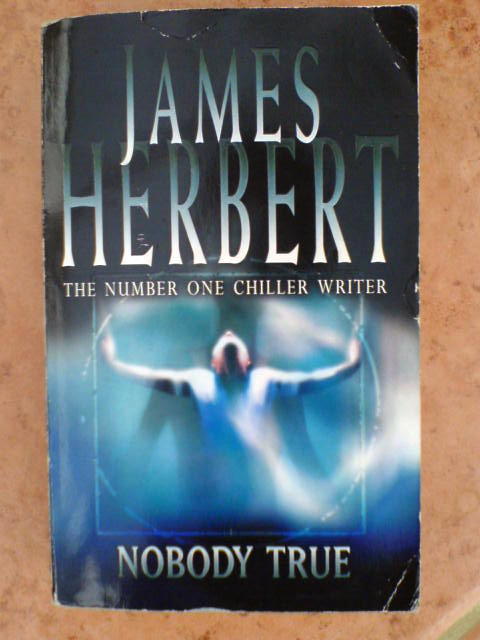 JAMES HERBERT
The Number One Chiller Writer

NOBODY TRUE

Soft Cover Book
Measures 7" x 4 1/2"
(17.5 cm x 11 cm)

I wasn't there when I died.

I'd returned from one of those out-of-body dreams,
the kind where you feel your spirit has left your body
and it isn't really a dream.

But somebody murdered me while I was away. Mutilated me.
Left nothing for me to come back to.

Who did it? The serial killer terrorizing the city?
Or someone closer, someone known to me? But I had
no enemies. At least, I didn't think I had.

And it's scary when you meet the serial killer, when horror is
followed by even greater horror, when your own family is
threatened and only you can stop the killings.

So what do you do? You have no substance, no real power.
You cannot even touch.

What the hell do you do?

- - - - - - - - - - - -

'Nobody True has one of the most unusual plotlines of the year ....
suspense, drama, romance all wrapped up in a blanket of black humour'
Evening Press

'Nobody True is the kind of horror story when you think
things can't get any more grim -
then they do .... It's a ghoulishly compelling page-turner'
Daily Mirror

'.... intriguing ....'
Guardian

'This is one of those books you can't read quick enough
because you desperately want to know the ending.
It's brilliant fast-moving storyline is as good as you would
expect from a Herbert novel, full of twists and turns.
Exceptional stuff from the master....'
Burton Mail

'Britain's top horror writer at his spookiest with this tale
of an out-of-body experience that has a gruesome twist'
Evening Telegraph

''Chilling indeed'
What's On in London

'Nobody True is gruesome and gripping in vintage Herbert style,
yet is possibly his most moving - and disturbing - story to date'
Weekend Magazine

'It's superb stuff, well written and totally engaging.
This is another classic from Herbert'
Shivers

'The reader's tension is stretched to breaking point ....
we can only watch in terror as events unfold'
Newbury Weekly News

'The tone darkens with the evil which surrounds the terrifying
faceless killer Moker, a blackly-brilliant creation.
This unusual horror will keep his fans awake all night
pondering questions of life and death'
Brighton Evening Argus

'Very funny, a great narrative with a fantastic twist'
The People's Choice Nomination,
WHSmith Book Awards

Original Price Tag - £6.99


Pan Books 2004


IN GOOD CONDITION
with no loose or torn pages


1 - Available

Buy Now only

£3.20- including post and packing to anywhere in the UK!
Overseas buyers - payment in GBP Sterling via PayPal only please.
Please add the following Airmail Postal Rates: Europe £2.00 - Rest of the World £3.25

OR ADD TO BASKET AND CONTINUE SHOPPING

Back to Novels, Autobiographies Shop Window

Items will be despatched upon receipt of full cleared payment which should preferably be made via PayPal as above.

If you would like to pay by CHEQUE - (it will need to clear before item is despatched),
POSTAL ORDER or CASH - (sent at your own risk),
please email: info@auntyanimal.me.uk


stating which item(s) you wish to purchase,
you will be emailed by return with instructions on where to send your payment,
together with confirmation of the item(s) reservation pending receipt of cleared payment.

All items are carefully packaged and proof of posting is obtained.

I cannot accept responsibility for items lost or damaged in the post as that would lie with the courier.

However, I would of course do my utmost to assist in any claim.