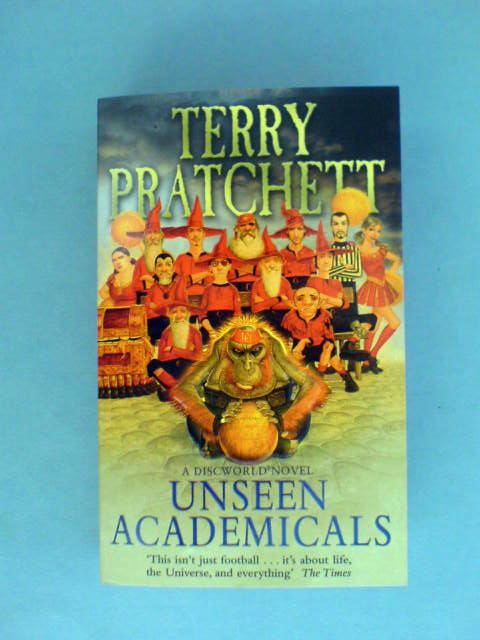 TERRY
PRATCHETT
A DISCWORLD NOVEL
UNSEEN ACADEMICALS

'This isn't just football ...it's about life,
the Universe, and everything' The Times

FOOTBALL HAS COME TO THE
ANCIENT CITY OF ANKH-MORPORK

- not the old fashioned, grubby pushing and shoving,
but the new, fast football with pointy hats for goalposts
and balls that go gloing. And now the wizards of
Unseen University must win a football match without
using magic, so they're going to try everything else.

The Big Match draws in an urchin with a gift
for kicking a tin can, a maker of jolly good pies, a
dim but beautiful young woman, who might turn
out to be the greatest fashion model ever, and the
mysterious Mr. Nutt. (No one knows much about Mr.
Nutt, not even Mr. Nutt.

As the match approaches, four lives are changed
for ever. Because the thing about football - the
important thing about football - is that it is not
just about football.

HERE WE GO! HERE WE GO!
HERE WE GO!

'As funny as Wodehouse and as witty as Waugh' Independent

'Satirical, historical, fantastical and irresistible' Daily Mail

540 Pages

Original Price Tag £7.99

IN EXCELLENT "AS NEW" CONDITION




1 - Available

Buy Now only

£5.59- including post and packing to anywhere in the UK!
Overseas buyers - payment in GBP Sterling via PayPal only please.
Please add the following Airmail Postal Rates: Europe £2.00 - Rest of the World £5.00

OR ADD TO BASKET AND CONTINUE SHOPPING

Back to Novels, Autobiographies Shop Window

Items will be despatched upon receipt of full cleared payment which should preferably be made via PayPal as above.

If you would like to pay by CHEQUE - (it will need to clear before item is despatched),
POSTAL ORDER or CASH - (sent at your own risk),
please email: info@auntyanimal.me.uk


stating which item(s) you wish to purchase,
you will be emailed by return with instructions on where to send your payment,
together with confirmation of the item(s) reservation pending receipt of cleared payment.

All items are carefully packaged and proof of posting is obtained.

I cannot accept responsibility for items lost or damaged in the post as that would lie with the courier.

However, I would of course do my utmost to assist in any claim.