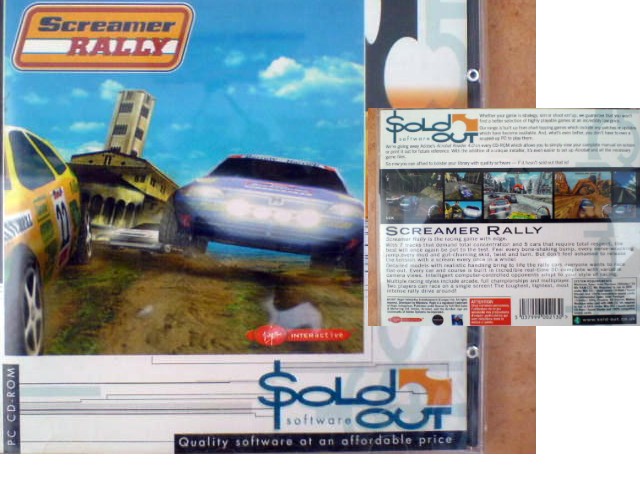 SCREAMER RALLY
CD-ROM GAME for PC
With Instructions and Racing Manual on CD-ROM
Screamer Rally is the racing game with edge. With 7 tracks that demand total concentration and 5 cars that require total respect, the best will once again be put to the test. Feel every bone-shaking bump, every nerve-wracking jump, every mud and gut-churning skid, twist and turn. But don't feel ashamed to release the tension with a scream every once in a while!

Detailed models with realistic handling bring to life the rally cars everyone wants to race flat-out. Every car and course is built in incredible real-time 3D complete with variable camera views. Intelligent computer-controlled opponents adapt to your style of racing.

Multiple racing styles include arcade, full championships and multiplayer. Two players can race on a single screen! The toughest, tightest, most intense rally drive around!



Minimum System Requirements:
Intel Pentium 100 mhz

16 Mb RAM (32 Mb required to run in DOS under Win 95)

Quad-speed (4x) CD-ROM drive

Sound Blaster and 100% compatible sound cards.
Recommended System:
Intel Pentium 133 mhz

3Dfx, Creative 3D Blaster, Matrox Mystique video card with 4Mb
(32 Mb required to run in DOS under Win 95)

Quad-speed (4x) CD-ROM drive

Sound Blaster and 100% compatible sound cards.
This CD-ROM also contains:

Adobe Acrobat Reader 4.0

and any patches and updates that have become available.

Please Note: This CDROM may not run on WindowsXP
and I cannot give any assistance with regard to its installation on your specific computer.
Please refer to the games' originator for advice or assistance with any installation queries.

1 - Available

Buy Now only

£3.99

- including post and packing to anywhere in the UK!
Overseas buyers - payment in GBP Sterling via PayPal only please.
Please add the following Airmail Postal Rates: Europe £2.50 - Rest of the World £4.00

OR ADD TO BASKET AND CONTINUE SHOPPING

Items will be despatched upon receipt of full cleared payment which should preferably be made via PayPal as above.

If you would like to pay by CHEQUE - (it will need to clear before item is despatched),
POSTAL ORDER or CASH - (sent at your own risk),
please email: info@auntyanimal.me.uk


stating which item(s) you wish to purchase,
you will be emailed by return with instructions on where to send your payment,
together with confirmation of the item(s) reservation pending receipt of cleared payment.

All items are carefully packaged and proof of posting is obtained.

I cannot accept responsibility for items lost or damaged in the post as that would lie with the courier.

However, I would of course do my utmost to assist in any claim.